LIFE
Courage and Kindness Hallmark the Life of Findan
It is with heavy heart that we announce the passing of Paolo "Findan" Aceto, a well known and loved event leader in Guild Wars 2. He lead more than 240 events over the course of his 4 year Gaiscioch membership conquering more than 4,500 objectives. His dedication and leadership were major factors in becoming one of the first to obtain the Laoch rank in the Gaiscioch Community.
After running with Findan for the first time on June 24th 2014, Aislinne commented:
"Fin led our squad in the best tradition of GSCH with calm clear direction and an eye on team & map strategy. He welcomed allies & questions while keeping the team on focus taking our objectives - all done in a light-hearted, FUN atmosphere. This was a great run and a great team to learn from and be a part of - the essential essence of GSCH. "
Quotes like this were not uncommon. His Gaiscioch.com profile is filled with positive words, inspiring words, and a good measure of who Findan was.
His affinity towards leadership was dwarfed by his charismatic and friendly personality. Many times he took time out of his day to help players complete jumping puzzles, clear the odd dungeon or even lend a sound ear and heartfelt advice.
In November of 2014, Findan was involved in a tragic car accident caused by a stroke with pulmonary embolism in Johannesburg South Africa, which left him in a coma for several months.The embolism scarred his lungs, which caused heart failure. Last November they attempted to remove the scar tissue from the lungs but it did not go as planned and he was hospitalized again. Within a few months all seemed to be going well and he was able to return to his new home in Cape Town to live with his father.
He was able to make a brief reappearance in Guild Wars 2 and even lead a couple small events. His last visit to our community came on December 19th, 2017, and by January we began fearing the worst. On February 12th, 2018 we learned he had just passed away. His heart stopped and he passed into the peace of slumber.
Findan's loss is heartbreaking. However, nobody can say he didn't go out without a fight. For more than two years he fought for his life and even managed to make time to come say hi to the community and lead a few events. Findan was strong willed, friendly, and never bowed to a challenge. Let us remember him for his courage and helpful nature.
We encourage all players of Guild Wars 2 to leave their thoughts and memories on the official forums, we will be archiving the page and placing it in a book for his family. You can also leave comments on our YouTube video of his memorial in Guild Wars 2. Members of Gaiscioch can visit Findan's profile and leave your words on his leadership page.
Findan will not be forgotten. He has become a part of so many of our lives and has shaped our futures with his kindness. He will live on through us and be our guide as we continue his legacy. Rest well my friend, we shall meet again.
Published: February 16th, 2018 | 2,284 Reads
About the Author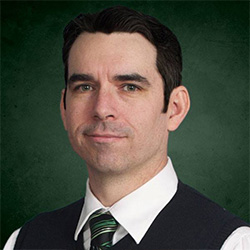 Benjamin "Foghladha" Foley
Managing Editor
Benjamin founded the Gaiscioch Social Gaming Community in 2001 and has since been the founder & activities director for this well known community. His role has gone beyond just running the Gaming Community and now includes running the Athletics Program in Portland, Oregon, as well as acting as the Managing Editor of the Gaiscioch Magazine, and is the Lead Producer on the Gaiscioch Livestream Productions. Additionally he networks with game developers to form relationships between Gaiscioch and development studios.
His experience in publishing dates back to helping his Grandparents who operated a printing press for over 40 years. In high school and college Benjamin excelled in journalism and played an active part in the school newspaper. Benjamin currently works full time as the director of technology for a franchise trade publication & education company.
SHARE YOUR THOUGHTS