PREVIEWS
E3 2018 EA Press Conference Recap
EA opens up the E3 2018 Press Conferences by showing off Battlefield V, Origin Access Premier, FIFA 19, Unraveled Two, Sea of Solitude, Madden NFL 19, Command and Conquer Rivals, and Anthem.
Full Press Conference
Gaiscioch Magazine


Best of EA 2018
Anthem
On a world left unfinished by the gods, humanity struggles to survive in a savage environment. Equipped with incredible Javelin exosuits, a faction known as the Freelancers seeks to tip the balance in mankind's favor.
Anthem focuses on being a story based game with drop in coop. Designed to be a progressive expanding story that builds over years of gameplay. They revealed that there would be no loot boxes or pay for power. Anthem is set to release on Feb 22nd 2019.
Highlights
Battlefield V
Origin Access Premier

Origin Access Premier is a new tier of our PC gaming membership that gets you new games like Battlefield V, FIFA 19, Madden NFL 19, and Anthem before launch. No trial, no waiting, just play.
FIFA19
Unraveled Two
Sea of Solitude
Madden NFL 19
Command and Conquer Rivals
Noteworthy Mentions
The Clone Wars are coming to Battlefront II

New Star Wars game in the works titled "Jedi: Fallen Order". It will take place in the Dark Times when the Jedi's are being hunted. Between episodes 3 and 4.
What are your thoughts on this years EA presentation?
Let us know in the comments below!
Published: June 9th, 2018 | 771 Reads
About the Author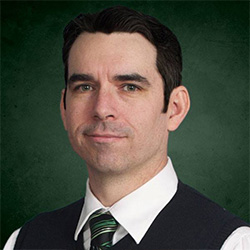 Benjamin "Foghladha" Foley
Managing Editor
Benjamin founded the Gaiscioch Social Gaming Community in 2001 and has since been the founder & activities director for this well known community. His role has gone beyond just running the Gaming Community and now includes running the Athletics Program in Portland, Oregon, as well as acting as the Managing Editor of the Gaiscioch Magazine, and is the Lead Producer on the Gaiscioch Livestream Productions. Additionally he networks with game developers to form relationships between Gaiscioch and development studios.
His experience in publishing dates back to helping his Grandparents who operated a printing press for over 40 years. In high school and college Benjamin excelled in journalism and played an active part in the school newspaper. Benjamin currently works full time as the director of technology for a franchise trade publication & education company.
SHARE YOUR THOUGHTS