FEATURES
Eden Rising Blends Exploration and Tower Defense in this Beautiful new Sci-fi Sandbox
In the Steam Early Access arena you find hundreds of games all looking to make their mark on the industry. We at Gaiscioch Magazine are always on the lookout for games we feel stand out from the rest. Eden Rising: Supremacy is one such title. It is an open world action RPG, tower defense game that allows you to join forces with other players to build, upgrade, and defend bases. These bases then stand against waves of increasingly more difficult enemies which will require a bit of planning and tactics to defeat.
If you've ever played Dungeon Defenders or Orcs Must Die the mechanics will be quite familiar to you. However, the second you step outside your defense bubble you'll notice something incredibly different. This tower defense game has a massive open world environment with min-defense quests, places to explore, hidden secrets, and a world of foes looking to kill you. From toxic shores to snowy mountains the world outside the bubble is massive.
After diving into this game head first and dragging a few friends to experience it I knew I had to contact the developer and put together an interview with them. This game stands far above the other Early Access titles and definitely deserves a bit of attention.
So today we sit down with Brent Ellison, the Lead Designer discuss the creation and vision of Eden Rising by Nvizzio Creations.
Thank you for taking the time to speak with us. Let's start off with a little backstory. When did you decide that making games was what you wanted to do? Did you go to school to learn it? Any advice you can lend to young developer hopefuls?
Although I'd been playing games obsessively my whole life, it didn't really occur to me to take it seriously as a career until after college. At that point, I earned a master's degree in Level Design from The Guildhall at SMU and then sent out applications with my portfolio.
Not everyone thinks this way, but the number one thing I look for in design candidates is a willingness to actually make games for themselves on the side. It shows a desire to never stop learning and building on what you know.
Tell us about Nvizzio Creations. How large is the development team and do they work from an office or are there remote employees? Where is the office located?
Depending on the stage of development, the Eden Rising team has always been between 20-30 people, although the whole studio is about 80 people. Pretty much everyone's in the office except for the sound and music contractors. We're located in downtown Montreal!
When Eden Rising was first presented, what was the inspiration behind it?
The original idea for Eden Rising was Open World + Tower Defense. From there, we also decided that we wanted the game to look so unique that you could never mistake a screenshot for any other game, and that led to the colorful alien world of Eden. We decided to go with a "Science Fantasy" setting because it allowed us to look unique and play up the scrappy survival aspects of crafting and defense.
Eden Rising: Supremacy has released into Steam Early access. You've outlined your roadmap quite well. What new feature are you really excited about?
I'm looking forward to the Mastery system rewards, since the game really feels like it needs little XP-like bars going up all the time to help you feel motivated while slaying out in the world. And the revamp to the ranged weapon system is also sorely needed! Annnnnnd I'm also stoked about the campaign story finale content we're working on right now.
The art style in this game is very aesthetically pleasing and provides a nice setting for the game environment. When the art team was in concept phase what design elements were most important for the team to get right?
Figuring out the player character took us a while because we weren't sure how deep we wanted to go with the Ascendant transformation. At one point you were looking like a really weird alien-corruption thing. Eventually we rolled back to a more relatable human character with little transformed bits, and I think that was the right way to go.
The monsters are super important to Eden of course, and although we did the Medusa first, I think it was nailing the Gorgon that really established the direction for everything else.
Botany seems to be a major theme in Eden Rising: Supremacy. Most of the armor and weapons in the game are plant and organic based. What was the reasoning behind going with floral based equipment over the more traditional hide and metal?
From the start we were committed to treating Eden like a proper alien world, so we didn't want anything too recognizable. Even things like the metal ore you can gather is kind of weird. That said, your characters are supposed to coalesce into a tribe of sorts, and therefore as you gather and craft what you need to survive you start looking more and more like you belong. You're colonizing this place, but it's also changing you.
Can you share any fun facts or rare stories with us about the development of Eden Rising?
There's a big schism on the team between the Star Trek nerds and the wrestling fans. Every Thursday we go to a pub for lunch and it's always a big deal whether it'll be Star Trek or WWE discussions that day. The wrestling fans have taken over our Slack channel and now all the announcements are greeted with John Cena emojis.
I happen to be a fan of both, so it's fine by me.
What is the long term goal for Eden Rising: Supremacy? Is it going to be a game that will continue to evolve after launch?
I hate to give the boilerplate answer, but we're 100% committed to doing a great launch right now, so we'll have to see after that! There are still a LOT of big changes coming before we even hit that milestone!
Published: December 10th, 2018 | 3,965 Reads
About the Author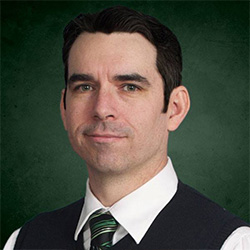 Benjamin "Foghladha" Foley
Managing Editor
Benjamin founded the Gaiscioch Social Gaming Community in 2001 and has since been the founder & activities director for this well known community. His role has gone beyond just running the Gaming Community and now includes running the Athletics Program in Portland, Oregon, as well as acting as the Managing Editor of the Gaiscioch Magazine, and is the Lead Producer on the Gaiscioch Livestream Productions. Additionally he networks with game developers to form relationships between Gaiscioch and development studios.
His experience in publishing dates back to helping his Grandparents who operated a printing press for over 40 years. In high school and college Benjamin excelled in journalism and played an active part in the school newspaper. Benjamin currently works full time as the director of technology for a franchise trade publication & education company.
About Eden Rising: Supremacy
Eden Rising is a hybrid game mashup seamlessly blending elements from both action tower defense and open world genres to deliver a truly unique experience. Explore the vast world of Eden and defend your Crucibles from hordes of deadly monsters. Make use of everything you collect to craft powerful defenses, upgrade your weapons, and unlock challenges.Play by yourself or with friends and master all the challenges that await you!
RELATED CONTENT FROM AROUND THE WEB
SHARE YOUR THOUGHTS