LIFE
Gaiscioch Football Wins First Ever Regional Flag-Football Tournament!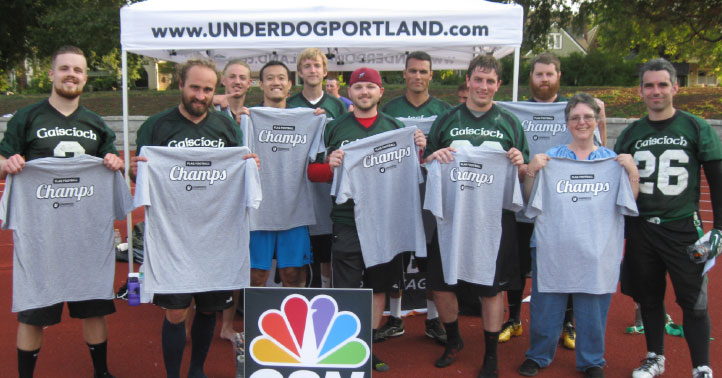 In the dead heat of summer, with a whopping 98 degrees Fahrenheit ... ok who's laughing. I hear you in the back there... pipe down for us pacific northwest folks thats pretty bloody hot.
Anyway, 12 brave Gaiscioch players came to put their skills to the test for the first time as a team. Led by Quarterback Anthony Davis, they took to the field and played the game conservatively, testing out the quarterback's arm and with short passes, slowly getting down the field for touchdowns. The game went back and forth but the team scores were always on top. It was a relief to win the first game. After the game, the day was getting warmer and they already had 2 injured players that were out. With about a 20 minute break, luckily others arrived to help.
In the second game, Gaiscioch were down to only 10 players. It was a One point game and it looked like a victory for Gaiscioch until the last 6 seconds. There was a penalty that would place their opponent on the four yard line. This meant a touchdown for the other team and a loss for Gaiscioch.
The team had another short break. Everyone was hot and tired, but came together to have a bite of food and water/Gatorade. The team brushed it off and went on to win their next 2 games, entering them in the final round.
The next game had lots of defense batting the ball away and running to the end zones. By this time, Gaiscioch was down to 9 players for this 7-on-7 team, with 3 of our members out of the game due to injuries.
By the start of the championship game, they had played 4 games straight in the overwhelming heat. Heat exhaustion was setting in and they were all tired and sore. In this final game of the day, they intercepted the ball, blocked throws and ran for touchdowns. The team won by a score of 34 to 29.
This is the first time Gaiscioch Football has ever entered a tournament and they managed to pull out a victory on their first try. Gaiscioch Football plans to continue their tournament play and will be participating in the Rain Bowl this winter.
Learn more at:
http://www.gaisciochfootball.com/
Published: March 30th, 2015 | 2,284 Reads
About the Author
GmaFog
Senior Editor
As GmaFog loves to adventure in life, she gets excited about everything surrounding her. In addition to working as a Web Production Assistant for Franchise Update Media, she voluntarily writes and edits for Gaiscioch Magazine. She attends Westside Christian Church and loves going on missions trips to Rwanda with Africa New Life Ministries. In her spare time, Gma plays games with The Gaiscioch [GSCH] Family and grandsons; dabbles in photography; and explores crafting ideas. You can always ask her questions, as she enjoys helping others, in-game and out.
SHARE YOUR THOUGHTS