ANNOUNCEMENTS
Gaiscioch Magazine Issue 9: Exploring Futures Is Now Available
FOR IMMEDIATE RELEASE - JUNE 21ST, 2016 - The Gaiscioch Social Gaming Community is proud to announce the release of its 9th issue of Gaiscioch Magazine. This issue dives into the topic of Exploring Futures with an in-depth look at the process the Gaiscioch Community uses to select its chapters. This 17 page look into the inner workings of the community gives game developers a clear outline of what a community like Gaiscioch looks for and what features make or break an experience.
Issue 9 features a wealth of original content ranging from interviews with Stoic, the developer of the Banner Saga series, Visionary Realms, the minds behind Pantheon: Rise of the Fallen, and professional livestreamer Warwitch. Readers can expand their knowledge with extensive guides for Black Desert Online and Elder Scrolls Online or satisfy their hunger with some Guild Wars 2 themed recipes.
For those that could not attend EGX Rezzed, Issue 9 offers an inside look at Playstation VR, The Black Death, Robocraft, City of the Shroud, Strength of the Sword, Oh My Godheads, Tokyo Dark and VA-11 HALL-A.
Gaiscioch Magazine's coverage of the crowdfunding scene continues with a look at the psychology of why we crowdfund. Additionally they highlight 7 of the most successful crowdfunded titles of spring 2016 including: Chronicles of Elyria, Gibbous, Masquerada: Songs and Shadows, The Wild Eight, City of the Shroud, Ghost Theory and Fear Effect Sedna.
Lastly you can read previews of Orcs Must Die! Unchained, The Dark Brotherhood DLC in Elder Scrolls Online, and reviews for The Banner Saga 2, The Division, Tree of Savior, and the Return of the Giants DLC for Thea.
Gaiscioch Magazine continues its quest to bring you the real stories and passions behind gamers and developers. If you have an idea you'd like to share, a game you'd like us to feature, or a story you would like to tell please contact us at: magazine@gaiscioch.com. Be sure to visit https://www.gaisciochmagazine.com/ for the latest magazine articles and gaming news from fan favorite sites around the globe.
Gaiscioch Magazine - Issue 9
Follow Gaiscioch Magazine & Livestreams:
Facebook | Twitter | Twitch | YouTube | Google+
###
ABOUT GAISCIOCH MAGAZINE
Launched in March 2014, Gaiscioch Magazine is a quarterly, volunteer driven, no-profit, gaming magazine aimed at game developers, community managers, and players. It features exclusive interviews, feature stories, research, guides, perspectives, reviews, previews, and short stories from the Gaiscioch Community. Now in its 3rd year of publishing, Gaiscioch Magazine is read by more than 10,000 readers.
Our editorial focus is unique in approach, as we focus on the full spectrum of a gamers life. Not just in the games we play, but also in our lives out of game. Words of inspiration lace our digital publication. We feature music, movies, athletics, charity involvement, life perspectives and real world tradecraft including cooking, arts, crafts and business resources.
Learn more at: https://www.gaisciochmagazine.com/
ABOUT GAISCIOCH SOCIAL GAMING COMMUNITY
The Gaiscioch were founded in 2001 in the MMORPG classic Dark Age of Camelot as a social community based upon Irish folklore. Since its inception, the Gaiscioch have grown to over 7,000 members in 68 countries. For more than a decade they have devoted their community toward creating a fun and enjoyable environment while using their reach to host public inclusive community events, and real world charity events. With a strong focus on community, their endgame goal is to create memories, friendships, and participate in the overall success of the community both in game and out. It is through gaming, and social interaction that we forge new friendships and relationships.
Learn more at: http://www.gaiscioch.com/
Published: June 21st, 2016 | 3,067 Reads
About the Author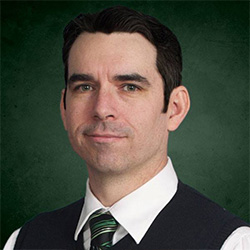 Benjamin "Foghladha" Foley
Managing Editor
Benjamin founded the Gaiscioch Social Gaming Community in 2001 and has since been the founder & activities director for this well known community. His role has gone beyond just running the Gaming Community and now includes running the Athletics Program in Portland, Oregon, as well as acting as the Managing Editor of the Gaiscioch Magazine, and is the Lead Producer on the Gaiscioch Livestream Productions. Additionally he networks with game developers to form relationships between Gaiscioch and development studios.
His experience in publishing dates back to helping his Grandparents who operated a printing press for over 40 years. In high school and college Benjamin excelled in journalism and played an active part in the school newspaper. Benjamin currently works full time as the director of technology for a franchise trade publication & education company.
SHARE YOUR THOUGHTS