FEATURES
Inside Cosplay with Kazy Cosplay
I bumped into Kazy Cosplay at McM convention, some of you might have seen her cosplay on the Guild Wars 2 twitter feed. Since then she's gone on to be invited to Gamescom by the Black Desert Online team to show off her work.
Thank you for spending time with us at Gaiscioch Magazine to answer our questions. To start things off, can you tell us a little bit about yourself and what inspired you to get into Cosplay?
Hello and thank you so much for the interview! To say a little about myself, my real life name is Lucy and I'm currently studying Computer Science at University. I'm 21 years old and an avid video game player, specifically adoring fantasy MMORPGs like Guild Wars 2 or Black Desert Online. I'm a cat lover and own about 20 cats at home (yes, 20 as in twenty!) as my mother shows and breeds them. In my spare time I also enjoy the countryside and horse riding. Despite currently studying a scientific subject, I think that more creative things have always been my passion in life. In my senior years of school I took Textiles alongside my science subjects which opened my mind to using materials creatively in art form. It was more art with textiles, rather than dress­making or sewing. We used all kinds of crazy materials like baby's dummies, pins, pipettes or any object with interesting shapes. We'd manipulate them, cut them, cover them in latex or wax and then create headpieces or some fashion piece to be worn. My teacher at the time was absolutely amazing. She really encouraged me to keep experimenting with new materials, and being braver in how I went about my crafting. She inspired my interest in costumes and fashion which I think later encouraged me to make more ambitious cosplays. I heard about conventions through a friend in my guild in Guild Wars, and decided to attend my first convention in 2011. I bought a pink wig, and altered a shirt; adding frills and ribbons to make an anime-­esque school uniform. It was nothing special and my mother helped me mostly with the sewing! At MCMs, cosplay is extremely common so it wasn't out of place to go in a costume. I think what really inspired me was seeing an amazing WoW night elf cosplay with incredible intricacy. It had never crossed my mind that I could bring alive the armours that I love so much in the games I play. Armours were definitely my playing point in most games, and I often used to design my own for fun. It was a mix of fashion, fantasy and games that was amazing! Then the concept that I could enjoy crafting them and then wear them is just perfect.
Can you tell us a little about your first experience with Cosplay? What was running through your head when you wore your first creation in public?
I remember wearing my pink wig and anime school girl outfit on the train up to London with my friend. I received many strange looks and 'discrete' stares, but I eventually just ignored it. I'm never going to meet those people again in my life, and if I did, they wouldn't recognise me. As we approached closer to the convention, there were a lot more people in costume which was almost a relief, and I felt 'normal' again! Being in costume at comic con is just such a thrilling experience. It gave me a confidence and happiness I'd never felt doing anything else. The feeling is addictive! I once worn my Miqo'te cosplay in public, whilst taking a bus to the convention. I wore a coat over my costume as my stomach was bare and it was cold outside. As far as people could see, I was a girl in normal everyday clothes, adorning cat ears and a tail. I think not having the costume visible made people think I was just weird, rather than being in costume! It amused a lot of people though, so I took it in my stride and just smiled and waved back. It probably made their day so it just makes me happy. I actually enjoy the shock factor now of walking in public places in costume!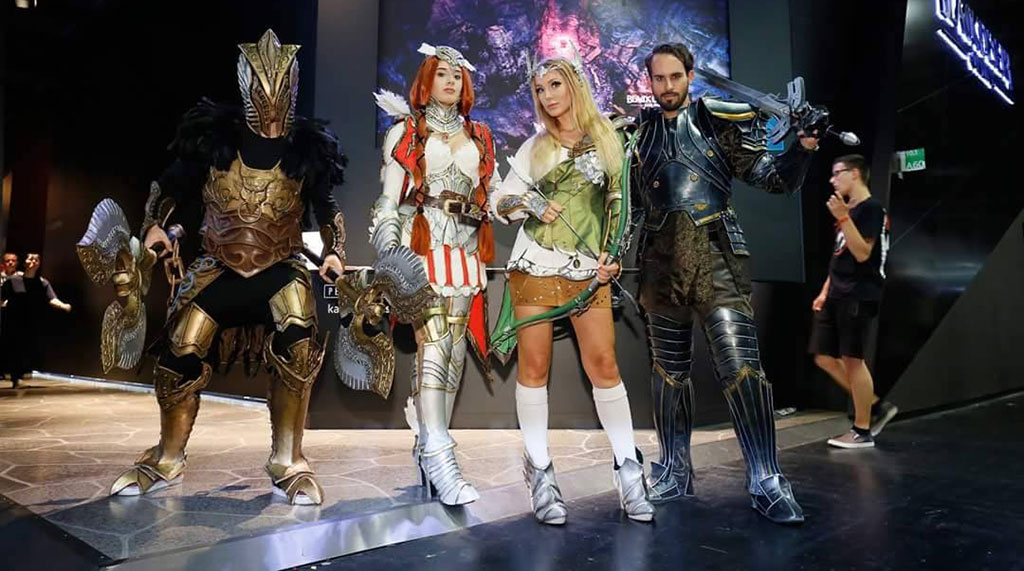 Do you ever have any stage fright? If so how did you conquer it?
Yes! Always… and I haven't conquered it! I've never been the confident kind of person and even giving speeches to small groups is nerve wracking for me. I've been pushing myself a lot more recently, and entered my first competition at Manchester MCM in 2015. I was shaking so much and I thought I was about to faint just before going on stage. Through perseverance I feel like I'm improving and now I force myself to enter any competition I can. One day I would love to go on stage and be entirely confident but I just haven't reached that point yet! Before I go on stage I try to get in character, be confident, remember to smile, and remind myself to have fun, but I really don't think I've conquered my fears... Perhaps some day! Other cosplayers and those helping backstage in the competitions have been really supportive, it's such a kind and fun atmosphere, with a definite sense of community. There's no judgement or unkindness, everyone is open to different things. As long as you're having fun, that's the most important part! This year at the Manchester MCM I entered the competition with my friend Tarian Cosplay and it was a lot less of a scary experience having a partner on stage, so I think we are going to try more duo competitions in our costumes. We even won a judge's choice award for our armour making so that was an amazing reward!
So fast forward to today, In a couple of years you've gone from McM in London to Gamescom. You were invited to visit the Black Desert Online stage, at Gamescom 2016, in front of massive crowds. Did you ever imagine your hobby would take you there?
Attending Gamescom was an unreal experience. I first saw that Black Desert Online was attending Gamescom, to which I thought that would be the most amazing thing to go to in my costume! It's rare you get to show off your cosplay to the team and be recognised by fans who would likely be at the stall too. I emailed them as there were no tickets for sale and the Kakao team kindly gave me exhibitor passes! I was ecstatic! I had the privilege of meeting the Black Desert Online team, as well as the Pearl Abyss Developer team who had come all the way from Korea, including the CEO and President of the game! Ahhh! And they wanted pictures with ?me! Nothing is more rewarding than the game developers themselves appreciating your cosplay. Everyone from the BDO team was amazing and entirely welcoming and helpful to me. Upon leaving I had to control my tears because I felt so grateful for the experience! I never imagined to have that experience but I am so, so grateful and happy for it.

Let's take a look at the steps to come up with a great Cosplay design. You've decided what you want to be, what's your process for creating a character?
Once I've decided on my cosplay, my next step is to gather reference pictures and stare at them... for many days on end! I'll get obsessed and stare at them on any occasion I can, so I usually save a copy on my phone. I try to figure out what materials I need to use, how I'll attach things, and how I'll build certain armour parts and think about whether they'll articulate or not. Often in games armour doesn't move as it would naturally or there are floating parts not attached to anything... So that is a problem to tackle! I'll also try to figure out if there are base pieces of clothing I can buy and then alter, so I don't need to make things from scratch. Shopping for my cosplay is probably my favourite part. After then, I'll make my own patterns. For armour pieces like headpieces or shoulder pieces I usually expand some screenshots of my character to my own size (for example, compare the thickness of the arm in the screenshot to mine), and then trace my screen with tracing paper to get an accurate design in terms of proportion and shape. A difficult part of creating a cosplay is getting the proportions right, as video game characters often have unrealistic human proportions... Smaller waists, longer legs, etc. Half of the challenge is patterning the pieces to make it look as in proportion as possible, but also to fit my human body. Once I have my flat patterns, I'll either start sewing if it's a fabric piece or I start playing around with craft foam to make a 3D shape, then cover it with worbla (a thermoplastic) for armour pieces. After then it'll be adding details, fixtures, and finally priming and painting.
What's been your most difficult component, part, or material to work with?
Making armoured boots!!! So far all of my leg armour pieces haven't been the standard 'front panel with straps that secure it around the back' kind of thing. They've been fully encasing leg armour... Which is a trouble because how do you make it join?? The calf shape is such a complicated shape to pattern with foam and worbla and you need about ten hands to hold it against your leg whilst shaping it. Then you have the complicated task of fitting two sides to sit flush against each other. Gahh! I'm definitely remaking the leg armour for my Valkyrie cosplay. It actually damaged me! I still have the wounds to prove it and I don't have all of the feeling in the side of my foot. The leg pieces for that cosplay were very complicated as in the game they articulated at the knee in ways the laws of physics do not allow. Making my bodice was quite a challenge too. An encasing bodice around the waist and stomach wouldn't allow any movement or for me to sit down, and I know how important sitting down is after making my Guild Wars 2 cosplay! It was like a jigsaw puzzle as I patterned the bodice into pieces all attached to each other with elastic. This made sure it would all articulate so that I could bend forward and twist.
Do you work alone or do others contribute to your work?
I make all of my costumes by myself, although I have to thank my mum too! I usually start my big cosplay projects when I return home for the holidays. My mum takes care of me and feeds me, especially in the con crunch time a week or so before the convention when I am stressing out majorly! She's extremely supportive of my cosplay and sometimes she'll help me with more monotonous tasks like painting layers of wood glue on my worbla to prime it, or paint my gemstones. She is utterly amazing!
When making my Black Desert Cosplay, my friend, Tarian Cosplay, was also making an armour set from the same game. We met often to have 'cosathons', where we brought all of our supplies to my house and just crafted straight for a week or so. Although we worked individually on our costumes, it was handy to have someone else there to bounce ideas off one another or to support each other.
What went through your head before you stepped out onto the Gamescom floor for the first time?
I was excited for sure! I wondered what the fans and developers would think of my costume. So far my cosplay hadn't been recognised as the game is not that well known at the moment, and being recognised by a fan of the franchise is the biggest compliment to me when I make a cosplay! Gamescom ended up exceeding all of my expectations, and luckily one of the community developers from the game recognised me right away from passing by me and took me over to the Black Desert booth! Everyone was really welcoming and the stage performances were really fun too. I was really overwhelmed by how huge Gamescom was! It's definitely the biggest convention I've been to. There's so many flashy stalls and lights it's incredible how much effort goes into it.
On a more serious note, harassment. Have you had to deal with it while in cosplay?
I suppose the answer depends on your definition of harassment. I rarely receive inappropriate comments about my cosplay to my face. As far as I can remember I had one inappropriately childish comment from an older lady at Gamescom (It was in German though, so before someone translated it for me she was already gone)! Sometimes online comments are a little harder to deal with, as people are a lot braver to comment online and forget that there is a real person behind the screen reading their comments. The positive comments and reactions far outweigh the few rude comments, so on the whole I try not to let it get to me. I've never experienced any badgering or rude pestering regarding my cosplay though, generally everyone is very polite and kind.
Where do you go from here? Have you got any new projects you are working on?
From the moment I finish making my cosplay I'm already looking at reference pictures for my next project! Currently I'm looking at some more Black Desert Online armours, as they are just so beautiful and intricate. At the moment I am in love with the Witch Awakening outfit! I'm also looking at the Dark Elf concept art which looks incredible, although I will have to wait for a 3D render. I'm also considering Mercy from Overwatch or another Guild Wars 2 armour­ the Carapace butterfly armour is my favourite! I think for my next project I'd like to cross over some programming from my computer science side and perhaps incorporate programmable lights or movement. I'm always looking at innovative materials and how I can use them in my next cosplay.
How do our readers learn more about your work?
I mainly post on www.facebook.com/kazycosplay , or www.twitter.com/Kazy_UK . I'll also be attending MCM London in October!
Published: October 7th, 2016 | 3,793 Reads
About the Author
Edward "Screenager" Orr
Writer
SHARE YOUR THOUGHTS