FEATURES
The Creative Mind of Digital Arts Pioneer Cris Ortega
When I was going through my first years of college, the idea of "Digital Art" was still foreign to many. Art circles didn't accept it as art, people shunned you for it, and said it wasn't really art. Even in my freshman year (2007) it was considered part if the computer science department and was not part of the art program. This was largely to the misconception that the computer did everything for you.
As anyone who has worked with digital art can tell you, that's simply not the case. Digital art has come a long way since then and one of the people who helped bring it into a more accepted art style is Cris Ortega. She has been at it since before the time of Wacom tablets and is one of the most recognized digital artists today.
I had a rare opportunity to cross paths with her, thanks to the world of Social Media, and I absolutely had to see if I could land an interview with her as I spent so much time of my collegiate life admiring her work. What do you know, here I sit today with the legendary Cris Ortega.
Thank you for taking the time to share a little about your passion. To kick things off, can you tell us a little about yourself and your art form?
It's my pleasure to talk with you.
I'm an artist and writer born in Spain. I have been working on this medium for more than fifteen years, focusing mostly on fantasy and gothic genre. My principal medium is digital art, with fantastic realism as my preferred style. I have published several artbooks with my images, along with posters and puzzles, and other merchandising products. I also worked as cover artist for several books, games and advertising.
I've been following your work for a bit more than a decade now and have always found you as one of the leaders in the digital medium. Can you share with us a little about how you got started with digital illustration?
I'm flattered that you've been following my work for so long, thanks!!
I started with digital art when it was a new and unknown medium. At that time there were not tutorials, or tips or anything at all to help you learn how to paint with a computer program, so it was all trial and error. I can say that I'm self-taught on digital art because of that, but the knowledge I gathered from my art studies in traditional mediums helped me to go through it.
Were you formally trained for art or did you teach yourself?
I'm part self-taught and part trained. I began to practice by myself when I was very young. Later, when I was sure I wanted to do art for a living, I went to the Art School, where I learned a lot about illustration, design and photography. Once my studies were finished, I kept learning by myself. As I said before, digital art was one of the things I had to teach myself to do, since at that moment it was a very new technique. Anyway, I think every artist should keep studying and improving each day, it's one of the best parts of this profession.
You are one of the more versatile artists being able to do Gothic, Fantasy, and Sci-Fi art. You have had several books published featuring your art. With so much variation in art style which style is your favorite?
It's difficult to say because I like to change and try new things from time to time, and every style it's interesting in one way or another. Indeed, I'm planning to try new ones as soon as the chance appears. But I think my preferred ones are fantasy and steampunk, I enjoy a lot working on them.
Just as a painter has their favorite brush set, digital artists rely heavily on their computer and tools. Can you tell us about your setup?
I work with a very potent computer that is not connected to internet, since it's the best way to work. It's a lot quicker and rarely freezes. My tablet is a Wacom Intuos 3, I had been working with it for about ten years and I'm not planning to change until it breaks, I find it most useful than other models.
About programs, I always work with Photoshop, mostly because of habit. I tried other softwares, but I was not convinced about the results. I have a large amount of brushes, some mine and some from others, but at the end I keep using the same few ones again and again. As you can see, old habits die hard.
Thinking back to where it all began, what did you use to create your first digital works?
Believe it or not, my first digital works were made with a mouse. I highly advise anyone to never try it, it's exhausting. I used Photoshop back then, just like now, but the program has changed a lot in all this years, for better. Then it was a photograph focusing program that had a very few options for painting, but it was the one I could put my hands on, and once you learn how to work with it, it becomes easier.
What tools & technologies over the last decade have helped bring your art to the next level?
The graphic tablet was one of the best things for digital painting, it makes the medium very similar to traditional techniques. I find the 3D programs very useful for references and anatomy, and now there are so many tutorials, tips and manuals available that you can keep learning new things to improve your work.
The creative process is different for all of us. Can you walk us through a project in your creative process. How does it begin? What steps are involved in creating these beautiful works of art?
The first step is always the idea. Could be a brief one of a scene I want to depict or a very complex one when the project involves several paintings or a big story behind. Most of the times I write down that idea when it's born, and several months –or years- later, it comes to live.
Once I choose an idea, I began the process of studying everything related to it, from the clothes the character is going to use to the positions and the background. I do several rough sketches until I find a scene I like, and then I began to paint. I usually fill the general shadows and lights in a monochromatic tone that will be used as a color basement, and once the basic tones are there I work on details. But the process is not always the same, sometimes I approach other steps first, it depends of my mood.
I could spend hours just painting little details, so a full painting could take between two to three weeks to complete. And the final result is usually different from the original idea, I always let myself some freedom to change things here and there to make the painting better.
When you're not drawing, what hobbies do you enjoy?
I do have a lot of hobbies, but unfortunately I also have few time to enjoy them. Traveling is one of my great passions, I had very good experiences meeting other peoples and cultures. I love to read, going out with my friends, and I go to the gym frequently. But I also love to spend my time studying history, archaeology and folklore, or taking photographs. I'm also an amateur astronomer. So, as you can see, I always have something to do, I'm not easily bored.
Are you a gamer? If so what are your favorite games? (Optional, will be removed if unanswered)
I was a gamer, and it's something I really miss. I had to stop because I didn't have enough time anymore, but I really hope I can enjoy playing games again soon, when my current projects are over and I can have some more free time.
I have been a gamer since I was ten years old, back then I even took part of some competitions (of Super Mario Bros and Street Fighter, since they were the cool ones at that moment). My favorite games were the Final Fantasy and Resident Evil series, and most RPG games that I could put my hands of. But I also enjoyed fighting and racing games. Right now, I'm dying to try the Assassin's Creed and The Witcher series, but there are a lot of new games that I will surely enjoy a lot. Hopefully, I will be able to do so very soon.
What accomplishment are you most proud of so far in your career?
The project I'm working on at this moment… probably because I didn't have the time to see every little mistake yet. If you ask me the same question a year from now, it's very likely that I will change my answer to the most recent project at that moment.
But I'm also proud because it is something I have been wanting to do for more than fifteen years, but I didn't have the courage to go ahead until now. It's a personal victory for me.
What's next for Cris Ortega? What's your biggest dream you'd like to accomplish?
I'm currently working on two projects, along with my usual amount of commission works. I have been working on both for five years. One of them is going to be finished in about two months, and the other one is going to take me several more months. To finish them is what I want to accomplish right now, both are projects I wanted to do for a very long time.
About my biggest dream, I could say it's to do an oil painting, big and complex, like the ones done by the old masters. It's something I really want to do sometime.
Do you have any inspiring words for a young artist out there?
Well, apart from the usual "practice, study, and never give up", there's something I would like to add.
Once you're good enough, people will say and do anything to make you fail and quit. Prove them wrong.
Where can people learn more about your art?
I have a website where I upload most of my work: http://www.crisortega.com
I also update with some frequency my pages on Facebook and Twitter, and there I will be showing a lot of my current works in the following months.
Published: September 26th, 2016 | 3,678 Reads
About the Author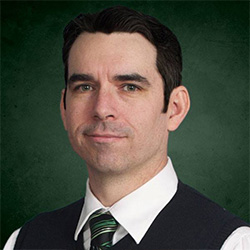 Benjamin "Foghladha" Foley
Managing Editor
Benjamin founded the Gaiscioch Social Gaming Community in 2001 and has since been the founder & activities director for this well known community. His role has gone beyond just running the Gaming Community and now includes running the Athletics Program in Portland, Oregon, as well as acting as the Managing Editor of the Gaiscioch Magazine, and is the Lead Producer on the Gaiscioch Livestream Productions. Additionally he networks with game developers to form relationships between Gaiscioch and development studios.
His experience in publishing dates back to helping his Grandparents who operated a printing press for over 40 years. In high school and college Benjamin excelled in journalism and played an active part in the school newspaper. Benjamin currently works full time as the director of technology for a franchise trade publication & education company.
SHARE YOUR THOUGHTS