PREVIEWS
Voyage to the Land of Britain
An Interview with Agnese Carluccio of Potato Killer Studios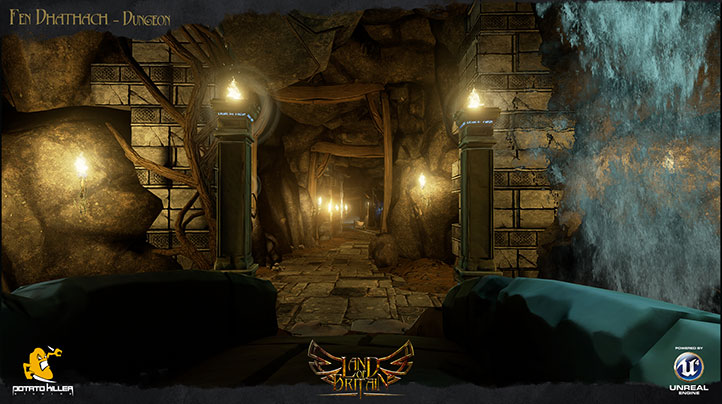 The Land of Britain is an innovative new fantasy MMORPG. In this epic adventure you'll explore an evolving world in which three Kingdoms face each other to survive. A reality that changes as time goes by, in which every character can live his adventures facing challenges with your own playstyle. You'll be able to partake in PvE, Kingdom vs Kingdom (KvK), Crafting, and choose your own path to protect your Kingdom.
Today we are joined by Agnese Carluccio of Potato Killer Studios to discuss this exciting new title Land of Britain.
Thank you for speaking with me today, I must say even though your project has a long way to go, your vision and direction is definitely a welcome sight in today's gaming scene. To get this started can you please tell us about who you are, what you do at Potato Killer Studios and what games you've been involved in in the past?
Hi, my name is Agnese Carluccio and I'm Potato Killer Studios' PR Manager. I'm studying Law at the University and I work as a freelance editor on Androidiani, one of the most famous Italian blogs entirely dedicated to Android OS.
In my free-time I dedicate myself to music and, of course, gaming. I have taken the first steps towards this direction thanks to my uncle who accompanied me at the bar of the park to play Crazy Taxi on cabs when I was a little girl. This passion has evolved over the years, making me approach specially to MMO and racing games, and take me up to write on Gamesoul, GameStop Italy's blog.
This is the first game I've been involved in as this role. I have embraced the ambitious project of Potato Killer Studios' team with great enthusiasm and desire to do so, convinced that Land of Britain will finally be able to satisfy that desire for innovation and new content that has gripped many gamers around the world for a long time.
Can you tell us a little about Potato Killer Studios and how it came to be?
Potato Killer Studios was founded in May 2013 by the idea of Luca Panero, our Game Designer and CEO, but first of all MMORPG gamer since 1997, starting with Ultima Online.
Potato Killer Studios' team is giving heart and soul to bring back an MMORPG that can make us try the emotions that the first MMORPGs made us feel. And, then, Potato Killer Studios are first of all players who want to satisfy those requests that for years have never been satisfied and have left MMO players with a bitter taste in their mouth.
How large of a team are you currently working with on this project?
The team consists of 40 people divided between illustrators, 3D artists, game designers, social managers, writers, graphics, 2D artist, rigger, animators and so on.
What inspired you to create Land of Britain? What is your vision for this game and what role do you feel it will fill within the MMORPG space?
For us Land of Britain is and will be THE MMORPG, which should grow with the player, evolve and give players a real life in the fantasy lands of Land of Britain. Every aspect of the game will be immersive and the events within the dynamic world of the game will be "live". In other words what will happen, the world will live and evolve, even without players who must necessarily trigger the event. *Our understanding here is that where in other games players must trigger events, that is not the case for Land of Britain.* So the rest of the world starting from the market, crafting and passing through PvE, PvP and taverns where players will be able to play with each other at the card game Fangold, they will be able to trade items, sell and much more. Every component will be alive and will evolve in order to create a living world which will offer more and new content.
Recently you decided to go with the Unreal 4 Engine, what advantages does this have for your title that made you choose this over other engines such as Gamebryo, Unity, or Crytek?
Unreal 4 is fantastic and allowed us to have effective tools. At the same time it's easy to handle so we can speed up the creation of the game and be able to spend more time refining it.
How does your past working in the industry help influence your future with Land of Britain? Are there pitfalls you learned previously that you plan to avoid this time?
This is our first MMORPG and within the team we have people coming from games like Battlefield 4, Ryse: Son of Rome, and so on. The possibility of making mistakes is surely present in our minds, but it doesn't affect us. The important thing is to not repeat the same mistake. If the road taken is wrong, then we figure out how to correct our mistakes by making them a strong point. Mistakes can make you see things from another perspective and then from an error you can see things that you wouldn't have discovered.
Gameplay Overview
Let's talk a bit about your new upcoming Kingdom vs Kingdom title Land of Britain. Can you share with us a little about the story that gives this game it's setting?
The setting of Land of Britain was inspired by the Arthurian legend, the Celtic myths and the Norse sagas. But it's much more than this. There are elements from various cultures around the world that enrich a complex but intriguing Lore. The four elements and the iconic figure of the Dragon have a very important role within the story of the game.
I understand there are 3 different kingdoms each with their own unique races. Can you tell us about what differences we'll find with each of these kingdoms?
The Kingdom of Avalon is inspired by the Arthurian cycle, but also has ties with the Roman Empire and ancient Greece. Norsengard is the son of the saga of the Nibelungs, but also gives a nod to Native American and Egyptian elements. Talamhria, instead, is related to the Celtic myths, but even here there are various influences, from India to the duo of Maya/Aztecs. You'll discover how all this diversity has been implemented in the game when you play Land of Britain!
How is the project being financed? Are you looking to tradition venture capital / publishers, or are there plans to crowdfund the development? Financing in this new global economy is quite challenging, especially for MMORPG's. How does Potato Killer Studios plan to fund Land of Britain?
We'll use crowdfunding because we want to be judged by the players with our ideas, we want them to be the architects of our success if we deserve it. Currently we are not seeking a publisher, because this would result in a possible change of direction and could distort the nature of Land of Britain that comes from players for players.
I read that Land of Britain features a constantly changing world, can you tell us a little more about how this works and what kind of changes we'll see?
Land of Britain's world will evolve with the player, but also without him as I've said before. We could pass through a lush area and attend an event like a storm that makes the area a marsh and if there is a nearby lake a mob would come out clashing with mobs outside. Or a goblin village could evolve into a city if not destroyed. Everything grows and everything evolves in Land of Britain.
Will Land of Britain feature the traditional MMORPG Trinity of Healer DPS and Tank or will this work towards a Hybrid. I know with so many games moving away from the trinity several of us players feel lost and without a place in the world. How is your class system tailored to make each person important?
On this aspect we will return to the famous Trinity Healer, DPS, and Tank, but bring a new system in the same. The Tank will have his role, but will also be highly customizable. There will be Tank sword and shield, two handed, or dual wield, with different fighting styles to defend their protected. At the same time customizing and balance system will influence whether the Tank will be more offensive, defensive, support or of counter-attack in response to injuries with the defense. By mixing these things a hybrid spec can be created where the player can build suitable to his style.
Crafting Systems
One of the more fascinating things I came across is your innovative crafting system. Can you explain the unique way you're making crafting both a single player task and a multiplayer task?
Crafting will simply be something never seen before that will integrate perfectly in the game bringing benefits to both PvP, PvE and KvK. The crafters, besides being master creator of objects, are also self-combatants. Obviously they won't have the specific skills of a pure fighter, but the crafter will be a good ally in the dungeon where he can give access to secret areas that require specific skills for crafting access and many other things that will help to totally complete a Dungeon. While in PvP they will provide siege weapons, repair and reinforce Keeps, create outposts such as towers and many other things.
There's a lot of focus on crafting in this game, can you tell us a little bit about the synergy between the crafting trades that should create a healthy trade market? How do these professions work together?
Simply said, to have the best sword you have to have the best blade and the best hilt. To have the best of these two things you have to have the best metal, the best skin, the best wood and so on. In this case you'll never be able to do all alone, and then you must address to the masters of gathering for the best materials. Therefore everyone can be fundamental in the game and have a specialization that allows to become unique and useful for the other players.
What can you tell us about the life a pure crafter can expect? Is it possible to entirely level up and focus purely on crafting without having to do dungeons or pvp?
Yes, absolutely. Anyone can level as he wishes in Land of Britain, from the grinding, the quests, the exploration, the crafter that chooses to craft in his home, and so on. We won't oblige anyone to gain exp in a certain way. Everyone will choose his type of game and how he wants to play. Speaking about the pure crafter, I can only say that the best crafters will have a place where it will be possible to create certain special objects only in their homes or laboratories where people will go to buy.
Person vs Environment (PvE)
Lets talk about gameplay for a bit. Besides Kingdom vs Kingdom (KvK) siege warfare and Crafting, what other types of gaming experiences can players expect to have in Land of Britain? (PvE Gameplay? Dungeons? Raids?)
PvE will be infinite because updated expansions will be released weekly. We will accompany the arrival of the expansion with a story that will give weekly events and things to do that you'll never be bored doing. The same things will be introduced in PvP and KvK. Land of Britain is a changing world so you will never have the feeling of having arrived at the end of the game.
Will players be rewarded for exploring and finding rare places?
Absolutely! There will be events that will start independently and if the player is going through that place he can take part. Or other events such as abandoned chests and dynamic dungeons that will be open for a certain time and many other things.
Guild & Community Systems
What is your stance on communities? Will your game support larger gaming communities looking to call your game home? What tools can they look forward to that will aid them in running a successful, healthy community within Land of Britain?
The community is crucial for us. We're first of all players and we know how important and exciting is to have an united community who wants to discover the secrets of the world of Land of Britain. Players will have within Land of Britain some tools to write their personal chronicles and make a diary of their adventures that will take place in the fantastic world of Land of Britain, with the possibility of making screenshots and videos and then editing them using the client interface of the game. Then the players can post them on all the major social media and on the website of Land of Britain that will have a section called "The Chronicles Players"!
How do you plan to support both large and small guilds so that they all feel important to the success of the realm?
The game will support not only the big and small guilds, making possible to have objectives for both types of guilds, but also for soloer or people who will play with 2/3 friends or groups of friends. For us, it's important to give everyone the opportunity to live Land of Britain greatly without limitations. If you can not do a RAID, we'll give you another way to acquire the equipment and items. Each MMORPG lover must be able to play. Our game designers will have to resolve this problem that has always afflicted MMORPG.
Will there be any Guild Advancement or Leveling to help unify guild members around an objective or goal?
Guilds will have all the classic improvements that MMORPG have always offered, but this was not enough for us. We have created a system of trade guilds in which you plan the conquest of cities where you can find a resource, or the ability for a guild to reclaim an area and create its own village. The housing will be feasible everywhere so there will be no limits to what you can create in the game and where you can do it.
Will the game allow Guilds to form Alliances to allow larger communities to befriend smaller communities?
There will be alliances and also alliances created by the NPC to which you can form an alliance and help in daily quests for PvE, PvP, crafting and so on.
And many other innovations that we can't reveal for now.
Do you have a max size in mind for Guilds within Land of Britain?
They will not have a user limit, but you can not have more than one guild, the sense of belonging is essential for us.
Final Thoughts
Where can players learn more about Land of Britain?
Obviously on http://www.landofbritain.com and on the Forum http://www.landofbritain.com/community
Do you have any closing words for our readers? Final tidbits of information you'd like to share?
We don't want to do proclamations or to give false hopes, we just say to believe in Land of Britain because it's born from the players for the players and we want to give back to MMORPG's its own identity where to get lost in a second virtual life in the fantastic land of Land of Britain.
Hi Britons!
Published: August 19th, 2015 | 3,116 Reads
About the Author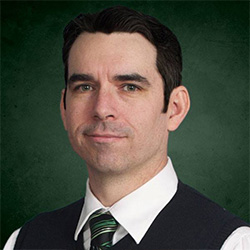 Benjamin "Foghladha" Foley
Managing Editor
Benjamin founded the Gaiscioch Social Gaming Community in 2001 and has since been the founder & activities director for this well known community. His role has gone beyond just running the Gaming Community and now includes running the Athletics Program in Portland, Oregon, as well as acting as the Managing Editor of the Gaiscioch Magazine, and is the Lead Producer on the Gaiscioch Livestream Productions. Additionally he networks with game developers to form relationships between Gaiscioch and development studios.
His experience in publishing dates back to helping his Grandparents who operated a printing press for over 40 years. In high school and college Benjamin excelled in journalism and played an active part in the school newspaper. Benjamin currently works full time as the director of technology for a franchise trade publication & education company.
SHARE YOUR THOUGHTS